MDR (Mobile Document Recognition)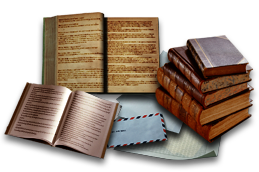 ■MDR identifies any document

MDR is an advanced document recognition technology that uses a smart phone, tablet or other device to recognize a document.
The recognition engine developed by Osaka Prefecture University differs from traditional image recognition engines in its exceptional ability to recognize documents.
(Project developed by FUJI PRINTING Co., Ltd *1 in collaboration with Osaka Prefecture University *2)
■Features of MDR

Extremely accurate recognition of documents.
Rapid retrieval database.
Recognizes large volumes of pages (50,000,000 pages).
MDR recognizes each single page of a novel or other work that consists solely of characters.
Able to detect large volumes of pages quickly, the technology is a highly practical AR or content download recognition engine.
All registrations for the pages, AR content, and download content to be recognized are performed by the browser (content management site system).
The MDR System is a mobile system developed in collaboration by Osaka Prefecture University and FUJI PRINTING Co., Ltd.
*1 FUJI PRINTING Co., Ltd.:

FUJI PRINTING has been in the business of printing, planning and creating user manuals for over 50 years in Osaka, Japan.
Creating mainly consumer electronics user manuals, the company's motto is to "communicate" a product in simple terms that are easy for customers to understand.
FUJI PRINTING now provides services with the concept "Communicate Even More Clearly"under the new WarpStyle brand rolled out in October 2010.
About WarpStyle,
the company is expanding its offerings in research of design that utilizes recognition science,
in services that connect you to design companies around the world,
and in services that use AR and 3DCG to further improve understandability.
Now WarpStyle has announced an MDR system that uses a completely new recognition technology in CES2012.
The core of the MDR system is document recognition technology currently under research and 
development by Professor Kise of Osaka Prefecture University. 
FUJI PRINTING and Osaka Prefecture University continue collaborative research and development to make information gathering, 
organization and exchange in a digital society more simple and easy to understand.
*2 Osaka Prefecture University:

OPU is a Japanese public university that advocates "cutting-edge research for a global age."